Please note: The Erwin Hymer North America (Roadtrek, Hymer, Carado Factory) in Canada is no longer in business effective Feb 15, 2019.  EHNA has been in receivership and was recently purchased; however, many details of what will be a new company are not available as of this time.  As such, parts are unavailable from the factory; however, alternative suppliers for many parts have been indentified.  As for service, there is no Hymer North America factory warranty reimbursment.  I am continuing to service both newer and older units as in the past; however, payment is required.  Depending on the age of the appliances, some may be covered by manufactuer warranties. 

Please note:  Current scheduling demands have placed priority on repairs above annual service and walk throughs. Consulting services are not currently available.

I specialize in Roadtrek, Hymer & Carado motorhome repairs and annual service. I conduct inspections, provide technical education, new owner walk-throughs, and consulting services.  I offer my services at various locations in California depending on my travels and I make house calls.  I offer Roadtrek, Hymer & Carado owners a preferred rate. 

I have an electrical background, specializing in power for the Bell System and studying Electronics Technology in college, and I am a certified Journeyman Central Office Installer.

I am an RVTC Master Certified RV Service Technician, an RVDA-RVIA Certified RV Specialist in Electrical Systems, and I am Roadtrek-Hymer Factory trained.  Also, I'm a Dealer with Alde, AM Solar, Battery Systems, Dometic, Progressive Industries, Roadtrek, Suburban, Thetford/Norcold, and TriMetric.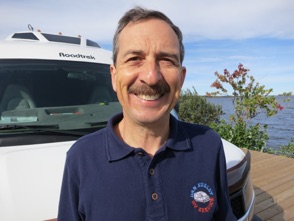 Thank you for visiting my web site and happy RVing!
Dan

Dan Neeley RV Service

"Changing the World, One Roadtrek at a Time"